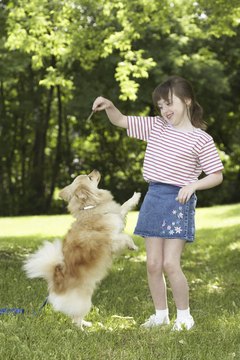 Treating Barkster without baking isn't difficult when you know what he likes and what's healthy for him. Dogs don't care if treats look like little bones and are baked in an oven. Barkster's focus is on tongue-tantalizing taste and you don't need to cook to make his day.
PB Balls
Play up your dog's peanut butter passion. No self-respecting dog can resist peanut butter. He craves it. He dreams about it. When you aren't looking, he'll swipe your PBJ.
Pour dry rolled oats in a bowl and add just enough peanut butter to form a thick clay-like mixture. Choose natural peanut butter, your dog doesn't need the sweetened stuff.
Roll the mixture into bite size balls, and roll the balls in wheat germ or ground flaxseed. Store the PB balls in an airtight container for up to two weeks or in the freezer for up to two months.
Veggie and Cheese Nibbles
Serve up carrot sticks, or celery dipped in a little peanut butter or cream cheese.
Cut fresh pumpkin, butternut squash or winter squash flesh into bite size morsels, and freeze for nutritious and always-handy summer cool-down treats.
Precut small cubes of hard cheeses and store in an airtight container in the fridge. Cheddar, mozzarella, Swiss or Monterey Jack cheese is a favorite standby treat for loving pet owners who would rather spend time snuggling their dogs instead of cooking.
Mash soft cheese varieties with unsweetened puffed brown rice cereal, shredded carrots and mashed peas for a healthy snack.. Add flax seed meal to thicken and form into small patties or balls. Store in the fridge for up to one week for healthy treats Barkster can't resist.
Shakes, Slushes and Frozen Delights
Puree plain yogurt, canned mixed vegetables and canned sweet potatoes or pumpkin puree. Pour the mixture into small paper cups or cupcake liners and freeze for healthy pup-pops that are sure to please.
Blend beef or chicken broth with canned vegetable medley. Always choose ingredients that do not contain extra salt, sugar or other seasonings.
Prepare canine milkshakes by blending two or more doggone-good ingredients, including canned goat's milk, plain yogurt, pumpkin puree, unsweetened crushed pineapple, wheat germ, canned spinach or egg. Freeze leftovers in single-portion servings.
Items you will need
Natural peanut butter

Rolled oats

Wheat germ

Ground flax seed

Carrot sticks

Celery sticks

Fresh pumpkin

Fresh squash

Hard cheeses

Soft cheeses

Peas

Brown puffed rice cereal

Plain yogurt

Canned vegetables

Canned sweet potatoes

Pumpkin puree

Cupcake liners

Broth

Canned goat's milk

Unsweetened crushed pineapple

Canned spinach

Eggs
Warning
As scrumptious as you find chocolate, resist sharing your passion with Barkster. Some human foods are toxic to your canine companion, including raisins, grapes, onions, seeds, and avocado. Nix processed foods, fatty foods and other spices -- and keep your beer to yourself.
References
The Natural Pet Food Cookbook; Wendy Nan Rees
Photo Credits
NA/Photos.com/Getty Images