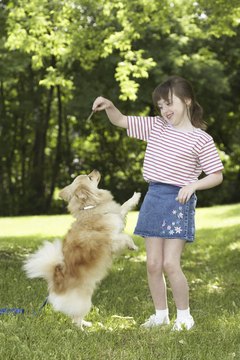 We humans like to make our dogs feel included when we're enjoying a special treat or occasion, like a cookout. With this simple recipe you can make barbeque-flavored biscuits sure to assuage your hungry pup when the burgers and hot dogs hit the grill!
Making the Barbeque Sauce
Heat a saucepan over medium-low heat. Add the tomato paste, beef stock, applesauce, cloves and cinnamon to the saucepan. Stir to combine.
When the sauce begins to bubble, reduce the heat to low. Simmer the barbeque sauce over low heat, stirring occasionally, for at least 30 minutes.
Allow sauce to cool completely.
Making the Barbeque Treats
Combine the flour, oats and cornmeal in a mixing bowl.
Add 1 cup of the barbeque sauce, butter and one egg to the dry ingredients and mix thoroughly.
Roll out the biscuit dough on a floured work surface. Roll to about 1/4 inch thick.
Use a cookie cutter to cut shapes from the dough, then transfer the biscuits to a lightly greased cookie sheet.
Whisk 1 cup of the remaining barbeque sauce with one egg. Brush the biscuits with the barbeque sauce glaze.
Bake the biscuits for 30 minutes, or until edges are golden brown. Transfer biscuits to a cooling rack and allow them to cool completely. Recipe yield will vary depending on cookie cutter size.
Items you will need
10 ounces tomato paste, no seasonings added

1/4 cup beef stock, no salt added

1/2 cup unsweetened applesauce

1/2 teaspoon ground cloves

1/2 teaspoon ground cinnamon

2 cups all-purpose flour, plus extra for dusting

1 cup rolled oats

1 cup cornmeal

1/2 cup butter, room temperature

2 eggs

Rolling pin

Cookie cutter

Large cookie sheet

Pastry brush
Tip
If your dog is lactose intolerant, use corn oil in place of the butter.
Warning
You can use purchased barbeque sauce for this recipe, but most ready-made barbeque sauces are high in sugar and contain garlic and onions, which are poisonous to dogs.
Photo Credits
NA/Photos.com/Getty Images