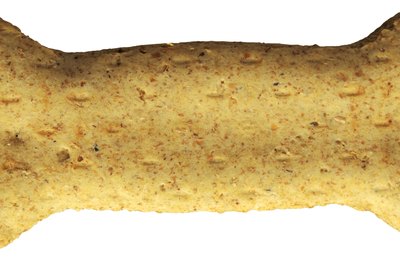 Making doggie "icing" for treats and biscuits is a snap. Since you need to avoid giving your dog sugary foods, a basic topping that lacks processed sugar provides a healthy flavoring. With just a few ingredients, you can easily create different types of icing, accommodating dogs with discriminating tastes.
Allow 4 ounces of cream cheese to sit out at room temperature for about 30 minutes to soften before making the icing.
Place the unwrapped cream cheese into a mixing bowl. Use an electric mixer to beat it for one to two minutes to give it a creamy texture.
Add 2 tablespoons of vegetable oil, 1 teaspoon of vanilla and 1/2 teaspoon of honey. Mix thoroughly with the electric mixer, using a spatula to scrape the sides of the bowl. Refrigerate the mixture for up to half an hour if the icing is not as thick as you like.
Frost doggie treats with a knife or dip them into the icing; store leftover topping in the refrigerator and use it within three days. Store dog treats topped with this icing in an airtight container in the refrigerator.
Items you will need
4 ounces of cream cheese, flavored or plain

2 tablespoons of vegetable oil

1 teaspoon of vanilla

1/2 teaspoon of honey

Mixing bowl

Electric mixer

Spatula

Knife (optional)

Storage container
Tips
You can use lowfat cream cheese.

Substitute carob powder or peanut butter for the oil in this recipe if you wish; or substitute mashed bananas or plain yogurt for the cream cheese.
Warning
Do not use chocolate in your homemade frosting; it is toxic to dogs.
Photo Credits
Stockbyte/Stockbyte/Getty Images