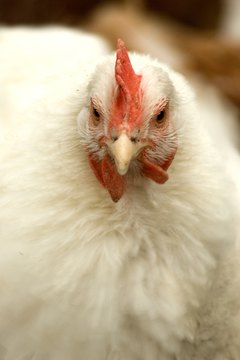 Make dog treats at home for a fraction of the cost of commercial treats, avoiding unnecessary additives. Add protein-rich organ meats -- such as inexpensive chicken gizzards from a butcher -- to your canine's favorite treat recipe to tickle his taste buds and provide a meaty boost to his diet.
Place the water and chicken gizzards in the pan. Boil for 30 to 40 minutes; this tenderizes the otherwise tough organ meat.
Remove the pan from the stove. Drain the chicken gizzards, but keep 1/2 cup of the water to use as flavored broth.
Scrape the chicken gizzards into the blender with the spatula. Add the broth, eggs, spinach or carrots and oil. Puree the mixture until it is blended, but still contains pulp.
Preheat your oven to 400 degrees. Apply a coat of baking spray to the cookie sheet and set it aside.
Pour the flour, cornmeal, cheese and chosen spice into the mixing bowl. Add the pureed mixture and stir with the wooden spoon. It will form a dough.
Sprinkle flour onto the countertop or cutting board. Scrape the dough out of the bowl onto the flour and knead it a few times until it is smoother. Use the rolling pin to roll it out to 1/4 inch thickness.
Cut out desired shapes in the dough and place them on the sprayed cookie sheet. When the tray is full, place it in the oven and bake the treats for 20 to 25 minutes.
Allow the treats to cool on the cookie sheet for a few minutes before moving them to a wire cooling rack with a clean spatula.
Cool the gizzard treats thoroughly before feeding any to your dog. Add doggie "icing" if desired. Store extras in an airtight storage container in the refrigerator.
Items you will need
Pan

Water

1 pound chicken gizzards

Measuring cups

Blender

Spatula

Baking spray

Cookie sheet

3 eggs

3 tablespoons vegetable or olive oil

1/2 cup spinach or chopped carrots

Mixing bowl

1 cup cornmeal

1 cup whole wheat or rice flour, plus extra for sprinkling

1/2 cup shredded cheese

Dash of spice -- such as pepper, garlic powder, basil or tarragon

Wooden spoon

Countertop or cutting board

Rolling pin

Storage container
Tip
Chicken gizzards can be dehydrated for a chewier treat, either in a dehydrator or a low-temperature oven. Or bake and freeze them for a quick and easy training treat.
Warnings
Wash your hands, utensils, countertop and cutting board thoroughly after handling the chicken gizzards to avoid disease.

Do not feed your dog onions in any form, as these are toxic to dogs.
Photo Credits
Jupiterimages/Photos.com/Getty Images