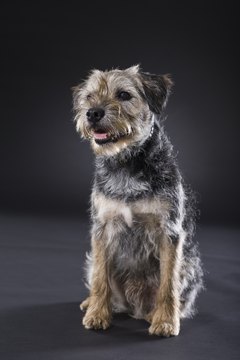 If you own a terrier, you want him looking his best. You've probably heard of stripping the coat, rather than using an electric clipper. This gives a better look to the coat and enables you to keep your terrier in tip-top shape.
Brush your terrier with the slicker brush. First brush against the grain or lay of the hair, and then brush it back with the grain. Use the slicker to brush out any mats or tangles.
Run the comb through your terrier's hair both ways, just as you did with the slicker brush. This will make sure his coat is as tangle-free as possible.
Start at your terrier's head and use either your fingers or a a stripping knife to pluck the loose hairs from his coat. To use a stripping knife, hold the loose hairs between the knife and your thumb and gently pull the loose coat out. You can also strip his coat by grasping the tufts of hair between your thumb and forefinger and pulling them out.
Strip your dog's entire coat, being careful not to pull too many hairs and cause pain in sensitive areas.
Bathe your newly stripped dog in lukewarm water and use a good shampoo and conditioner made for dogs. Be sure to rinse well to avoid leaving residues that can attract dirt.
Dry your terrier with a towel and then use a blow dryer to dry his coat.
Brush out his coat and use the stripping knife for any loose hairs.
Items you will need
Slicker brush

Metal-toothed comb

Stripping knife

Grooming table

Shampoo and conditioner for dogs

Blow dryer for dogs

Towels
Tips
Use a grooming table to make grooming easier.

You can strip bits of your terrier's coat at a time, making it easier to maintain.
Warnings
Do not leave your dog unattended on the grooming table, if you use one.

Do not use a blow dryer on a heat setting, because you can burn his skin.
References
All Breed Dog Grooming Guide; Sam Kohl
Photo Credits
Apple Tree House/Lifesize/Getty Images