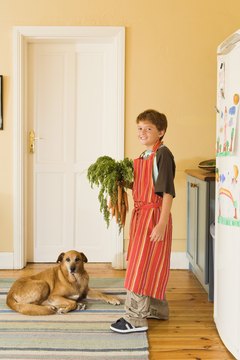 If your canine buddy loves treats, but you're leery of store-bought goodies, a homemade carrot treat may be just the thing. Carrots are generally safe for dogs, and when combined with a little peanut butter, they make a healthy and tasty treat for your four-legged friend.
Preheat the oven to 300 degrees Fahrenheit. The idea is to dry these treats so they get crunchy; cooking at a lower temperature helps remove excess moisture.
Pour 1 1/2 cups of brown rice flour into a large mixing bowl, and stir in 1/2 cup peanut butter. Mix until the peanut butter is fully incorporated. If the mixture is too thick to stir, add a tablespoon of water at a time until the mixture loosens up.
Add 1/4 cup shredded carrots to the dough, and stir until well combined. Scoop 1-inch balls of dough from the bowl, and place them on a greased cookie sheet. Flatten each ball with the back of a spoon to form a disc-shaped treat.
Bake the treats for 15 to 20 minutes, or until they are firm to the touch. Remove them from the pan and cool on a wire rack. Make sure the treats are completely cool before offering one to your furry friend.
Items you will need
1 1/2 cups brown rice flour

Mixing bowl

1/2 cup all-natural peanut butter

Wooden spoon

2 tablespoons water

1/4 cup diced cooked carrots
Tip
Even though carrots are safe for dogs, don't give him too many treats. Too many treats will lead to weight gain, which is unhealthy for any dog.
Photo Credits
Jupiterimages/Pixland/Getty Images