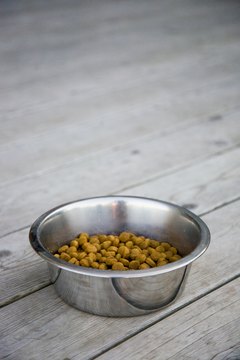 Making dog kibble at home is simple -- mix a basic dough with your dog's favorite foods to create a crunchy meal. Keeping harmful additives and preservatives out of his food benefits his health, and making dry food from fresh ingredients can be less expensive than purchasing a commercial brand.
Preheat your oven to 350 degrees. Spray a cookie sheet with a light coating of baking spray and set it aside.
Pour the flour and powdered milk into a mixing bowl. Stir with a wooden spoon to combine the ingredients and set the bowl aside.
Mix the eggs, baking oil and liquid choice in the second mixing bowl with a wooden spoon until the ingredients are thoroughly combined.
Combine the dry ingredients with the wet ingredients and mix into a thick, moist dough, similar to bread. Add any additional ingredients that you wish to mix in, such as the cheese, shredded meat, pureed fruits or vegetables. If the dough is too dry, add some additional liquid; if it is too wet, add some additional flour to get a smooth consistency.
Use the wooden spoon to spread the kibble dough onto the greased cookie sheet until it is approximately one-half inch thick. Place the tray in the oven.
Bake the dog food for approximately 45 minutes until it is brown and firm to the touch. Pull the cookie sheet from the oven and allow to cool.
Remove the baked "cookie" from the tray and break it into bite-sized pieces for your dog. Store the crunchy dog food in an airtight container in the refrigerator.
Items you will need
Cookie sheet

Baking spray

6 cups of flour -- white, whole wheat or oat

1 cup of powdered milk

2 mixing bowls

2 wooden spoons

3 large eggs or four medium eggs

1/3 cup baking oil

2-1/2 cups of milk, broth or water

Additions -- Shredded cheese, pureed fruits or vegetables, peanut butter, meats

(cooked and shredded)
Tip
Herbs and spices may also be added to your dog's kibble, as long as they are not considered toxic to your dog (such as onions or garlic).
Photo Credits
Jupiterimages/Photos.com/Getty Images