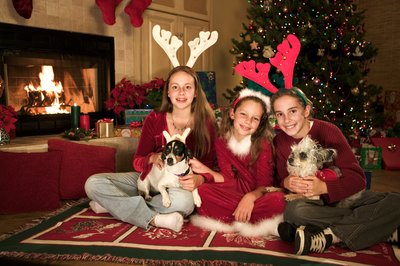 Nutritionally complete for both dogs and cats, these festive Christmas dog-erations are tied with ribbon and hung on the tree for the 12 days of Christmas, if they last that long. Whip up a batch for your best friend and gifts for all the special dogs on your Christmas list.
Mix all the ingredients together. Knead into a firm dough. Roll the dough out on a cookie sheet about 1/2-inch thick. Cut into Christmas tree shapes. Poke a hole at the top of each tree for the ribbon.
Bake at 350 degrees Fahrenheit for 30 to 45 minutes until lightly toasted. Cool in the oven for an hour or leave overnight to harden.
Mix the cream cheese with the honey and add the coloring. Whip into a fluffy consistency. Transfer to a piping bag fitted with a fine nozzle. Trace the tree's outline with the frosting and add a few polka dots. Refrigerate for two to three hours to set the frosting.
Cut the ribbon into strips of about 6 inches, long enough to tie a bow. Decorate your Christmas tree with a few and store the rest in the refrigerator.
Items you will need
Large mixing bowl

Cookie sheet

Rolling pin

Christmas tree cookie cutter

Piping bag with fine nozzle

Red or green grosgrain ribbon

1 pound of lean, ground chicken

1 16-oz. can of mackerel, chopped

2 cups soy flour

1 cup wheat germ

1 cup powdered skim milk

1 cup coarse, dry cornmeal

2 cups whole-wheat flour

1 cup rye flour

2 tablespoons Animal Essentials calcium

3 tablespoons kelp

4 tablespoons safflower oil

1/2 tablespoon cod liver oil

1/4 cup alfalfa powder

3 cloves garlic, minced

400 IU vitamin E

1 quart distilled water

1 cup low-fat cream cheese, softened

1 tablespoon raw honey
Tips
For gifting, use a large Christmas tree cookie cutter and package each treat individually in cello wrap embellished with a bow and tag.

Create other Christmas-themed treats with cookie cutters shaped like bells, teddy bears and Santa Claus.

To store, refrigerate in airtight containers. The treats not consumed in three days may be stored in the freezer.
Warnings
Moderation is the key in feeding treats, especially if your best friends are overweight.

Discard the treats hung on the tree when the holiday is over.
References
Dr. Pitcairn's Complete Guide to Natural Health for Dogs & Cats; Dr. Richard H. Pitcairn, D.V.M., Ph.D. and Susan Hubble Pitcairn
Pupcakes; Stephanie Mehanna
Resources
The Three Dog Bakery Cookbook; Dan Dye and Mark Beckloff
The Organic Dog Biscuit Cookbook; Jessica Disbrow Talley and Eric Talley
Photo Credits
Thinkstock Images/Comstock/Getty Images