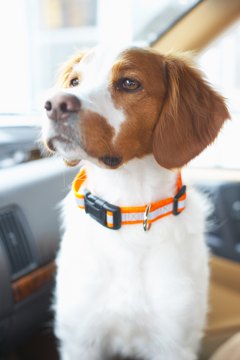 Every dog should have a set of dog tags listing your telephone number and (optionally) your address. Assembling dog tags takes a few minutes, costs a few dollars and offers infinite value if your beloved pet becomes lost.
Slide the dog tags onto a split ring—the same sort of ring fastener household keys typically hang on. Manually push the identification tags through the split ring, working one tag at a time. If you are using an S-hook fastener instead of the split ring, slide the tags onto the bottom of the S.
Work the split ring through the circular loop on your dog's collar. Again, push the ring through the loop until the ring is securely fastened.
Slide the top of the S-hook through the circular loop on your dog's collar if using this method. To secure the S-hook, use pliers to crimp the top and bottom loops closed so the S becomes a figure eight.
Place the collar securely on your pup. Manually tighten the collar; loose collars may slip off your pet should she escape, but tight collars may hurt her. If you're using the typical buckle collar, leave enough slack to insert two fingers between the collar and the dog's neck.
Items you will need
Split ring or S-hook fastener

Dog collar

Pliers
Tip
Use dog tags with your pup's permanent collar and not with a training collar, choke collar, accessory or other "sometimes" item. Keep your dog's collar on at all times, since you never know when she could door-dash and get outside.
References
29 Days to a Smooth Move: 2nd Edition; Donna Kozik and Tara Maras
Photo Credits
Jupiterimages/Photos.com/Getty Images