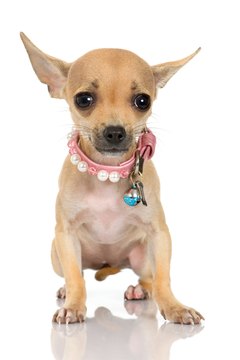 Adoptable Chihuahuas are easy to find in Pennsylvania. Unfortunately, too many Chihuahuas and Chihuahua mixes need permanent homes. Chihuahuas are gentle, low-maintenance dogs, requiring little exercise and grooming. After finding an adoptable Chihuahua, you'll need to follow a formal adoption process to ensure he's the best match for you.
Search websites such as Petfinder, AdoptAPet.com and the Shelter Pet Project. Specify that you're looking for a Chihuahua and narrow your search by zip code. The search will query many rescues and shelters near you that have available Chihuahuas. You will be able to view information about each available dog.
Look up local animal rescues and shelters in the phone book and call each of them to inquire about Chihuahuas available for adoption. Arrange to visit or meet with the adoption coordinators who will introduce you to any adoptable Chihuahuas that may be onsite or in foster care. The national ASPCA and your local SPCA can also be a resource to help you find available Chis for adoption.
Call or email the Chihuahua Club of America's rescue chairperson. She can assist you in finding available Chihuahuas for adoption in your area. Though the current rescue chairperson may be located outside of Pennsylvania, she has many connections and can network to find you the right dog you're searching for.
Go through the formal application process when you find a Chihuahua you would like to adopt. All rescues and shelters have different processes for adoption, but, at a minimum, all will require you to complete an application. The rescue may also complete a home visit and check references before allowing you to adopt a dog.
Resources
Photo Credits
Jupiterimages/Photos.com/Getty Images