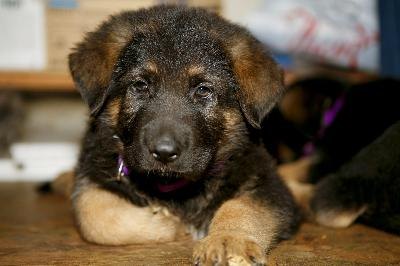 Finding a puppy for sale may present a challenge. If you choose to adopt from a rescue or shelter, the puppy may cost less but it may take you longer to find the puppy you want. Reputable breeders also sell puppies, often with certification papers and good health guarantees.
Go to a pet adoption website such as Petfinder.com that links to animal rescues and shelters. These sites list available dogs, including puppies of all breeds. Search by zip code and dog's age to find puppies for sale in your area. You can also search by dog breed as desired.
Call local animal rescues and shelters in your area to inquire about available puppies. Shelters may have puppies available in a variety of pure and mixed breeds. These puppies may be available for a fraction of the price from other sources such as breeders and may already be spayed or neutered and up-to-date with vaccinations.
Visit local animal rescues and shelters during open adoption hours. Shelters receive new dogs often and the puppies may not have been available when you called or looked online. If you find a puppy you like, and you already have a dog, you can bring your dog to meet the puppy on neutral territory. Attend local adoption events in which shelter often bring their most highly adoptable dogs.
Obtain a breeder referral. Besides asking veterinarians, neighbors and friends for recommendations for a reliable breeder, check with the American Kennel Club. The AKC lists breeder referral coordinators by breed on their website. AKC also lists breeder directories, regional clubs and local breed associations, all of which can direct you to reputable breeders.
Check your local newspaper classified advertisements. Breeders may post ads but beware of backyard breeders, breeders who dogs aren't certified and only breed for profit without much care or concern for breed standards or dog's health. When answering an ad, visit the puppy's surroundings and ask to see the parent dogs before purchase. Obtain a certification of health and good health guarantee before purchase.
Tip
Be patient if you can't find a puppy right away. Reputable breeders do not allow puppies to go home too early and shelters receive new dogs frequently.
Warning
Beware of puppies sold in pet stores that are usually a product of puppy mills. These puppies are often unhealthy, have genetic conditions and are sold for profit only.
Resources
Photo Credits
German shepherd puppies image by csaba fikker from Fotolia.com