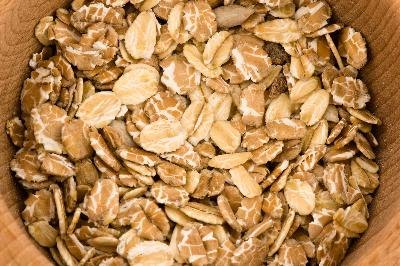 Rolled oats, or oatmeal, provide relief from itchy skin, dryness and dandruff in both humans and pets. While you can purchase a commercially made oatmeal shampoo for dogs, you probably have the products on hand in your kitchen to make your own natural, money-saving formula.
Place 1 cup of rolled oats into the blender; grind the oats down into a flour-like powder, scraping the sides with a rubber spatula as needed.
Dump the oatmeal powder into the large bowl. Add 1 cup of baking soda and 4 cups of warm water, stirring the mixture with a large spoon. Break up any lumps, and continue mixing until the consistency is smooth.
Wet your dog's fur down thoroughly before applying the rolled oats shampoo. Rub the mixture in and allow it to soak into his coat for five to 10 minutes.
Rinse your dog off with clean, warm water. Run your hand through his fur as you do so to remove any shampoo that clings to him.
Pat your dog dry with a clean towel, removing as much water from his fur as you can with the cloth before any remaining moisture in his coat air dries.
Items you will need
Rolled oats

Blender

Rubber spatula

Baking soda (optional)

Warm water

Bowl

Spoon

Towel
Tip
If you prefer a lathering shampoo, add a few drops of natural soap or shampoo to the mixture before applying to your dog's coat.
Warning
You will need to use this shampoo the day it is made; it cannot be stored.