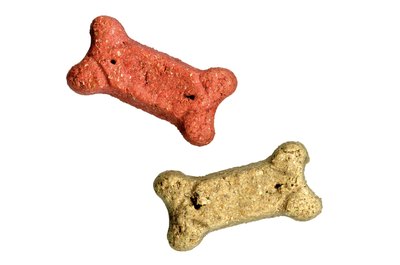 If you're snacking on a tasty treat and your dog begs for a bite, it's always tough to say no. People food is generally bad for dogs, but you can create some pooch-appropriate snacks with a few ingredients you probably have in your pantry.
Preheat your oven to 300 degrees Fahrenheit. That temperature may seem a little low, but these dog treats need to cook at a lower temperature than human cookies to dry them out and make them crispy and crunchy.
Pour the oats and flour in a mixing bowl, and stir in the honey. Use a little muscle to thoroughly mix in the sticky honey. If the dough is too stiff to stir, add one tablespoon of low-sodium chicken broth at a time to the dough and stir until it's all well mixed.
Cover the bowl with plastic wrap and set it in a warm spot to rest for at least an hour. This gives the flavors time to meld and helps the oats soak up the tasty honey and broth.
Dust your counter with a little flour and drop the dough onto the floured surface. Roll the dough to a thickness of half an inch and cut the dough with cookie cutters. Any shape is fine, although doggy-themed cutters are always appropriate for dog treats, especially if you're giving them as gifts. Lift the cookies off the counter with a spatula and set them on a clean cookie sheet.
Place the cookies on the middle rack in the hot oven and bake them for 20 minutes. Pull the sheet out of the oven and transfer the cookies to a wire cooling rack. Let the cookies cool completely before feeding them to your furry friend.
Items you will need
2 cups quick oats

1/2 cup unbleached flour

Large mixing bowl

1/4 cup honey

Wooden spoon

Low-sodium chicken broth

Measuring spoons

Plastic wrap

Rolling pin

Cookie cutters

Spatula

Cookie sheet

Wire cooling rack
Tip
Add a tablespoon or two of peanut butter to the batter for a little extra flavor.
Warning
Never feed your dog hot cookies. While a warm cookie may be a delicious human treat, it could burn your pooch's mouth.
Photo Credits
Thinkstock/Comstock/Getty Images