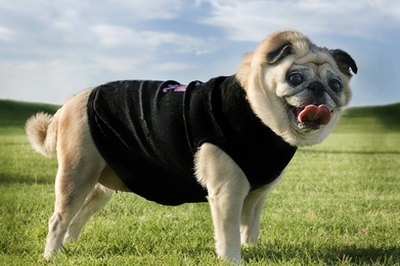 Dog clothing may seem like a silly idea, but shirts are actually beneficial for some dogs. Small, short-haired breeds and little puppies get cold easily, and you can make your own puppy shirts from old baby clothes to keep your pooch warm and cozy.
Select the proper size onesie for your dog. If your dog is a small breed or puppy under 15 pounds, purchase a newborn-sized onesie. For dogs over 15 pounds, a 0-3 month or 3-6 month onesie should fit well.
Unbutton the onesie, and slide it over your dog's head. Slip her legs through the arm holes, and pull the bottom of the shirt back toward the dog's tail. Place a small mark on the shirt over the dog's flank with a pencil.
Remove the onesie from the dog, and lay it on a flat surface. Trace a straight line using the mark you made on the shirt as a guide. Cut along the line with a pair of sharp scissors.
Turn the shirt inside-out and fold the bottom 1/4-inch of the shirt over to form a hem. Sew the hem with a needle and thread or sewing machine, and slip the finished shirt back on your dog.
Items you will need
Baby onesie

Pencil

Scissors

Needle and thread or sewing machine
Tip
If you life in an extremely cold climate, look for onesies made of heavy, thick fabric for an extra measure of warmth.
References
Photo Credits
Happy Smiling Pug Dog image by Paul Hill from Fotolia.com