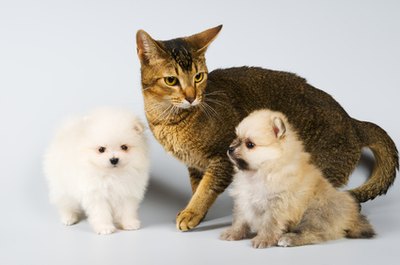 Don't buy expensive decorated collars for your dog or cat. Make your own pet collar decorations to match the season, your pet's personality or your mood. Create several pet collar crafts to have a bunch of choices.
Collar Covers
Measure the length and width of your pet's collar. Double the width, and add two or more inches to the length. Use the yard stick and pencil to make a paper pattern for a cutting guide.
Position the paper pattern onto a single layer of fabric, choosing which way you want the fabric print to look on the finished collar. Pin the pattern onto the fabric.
Cut the fabric around the paper pattern. Remove the pins.
Make a seam to prevent raveling on both short ends. Turn the fabric toward the inside to create a one-quarter-inch seam. Press the seams to hold, then hand stitch or sew the seams with a sewing machine.
Fold the fabric in half on the width, with the right sides of the fabric toward the inside. Pin the fabric all along the length to hold the fabric in place for sewing.
Sew the long seam by hand or with a sewing machine. Remove the pins, then turn the collar right-side-out. Arrange the collar cover so that the seam will be placed on the underneath side of the collar. Press the collar cover.
Slip your pet's collar through the homemade collar cover until everything is covered except the two buckle ends. Arrange the extra fabric, evenly-spaced, along the collar.
Foam Slip-On Shapes
Obtain a pattern stencil to make a foam shape that is larger than the width of your pet's collar. Use shapes like simple dogs or cats, hearts, stars, crowns or sports shapes.
Trace at least one shape onto craft foam. Cut out the shapes. Use scissors or a craft knife to cut two slits, about one-half inch wide, into the shape, each slit wide enough to slip the pet's collar through.
Thread the fun collar decorations onto the pet's collar, putting as many as you want onto the collar.
Braided Pet Collars
Decide what type of braided collar to create for your pet. Choose from items like leather crafting strips, plastic lacing or embroidery thread.
Cut three lengths of the craft material about twice the length of the collar your pet usually wears. Use colorful combinations or all one color.
Place the three lengths of braiding strips together. Tie one end of the strips together to hold the bunch together firmly.
Braid the strips together until you reach the end of the loose strips.
Tie the remaining end of the braided collar together firmly. Wrap the braided collar loosely around your pet's neck, and tie the ends together. Have your pet wear the braided collar alone or as an added decoration with his regular collar.
Items you will need
Fabric, plain or with small prints

Plain paper

Pencil

Yard stick

Scissors

Straight pins

Craft stencils

Craft foam

Leather craft strips

Plastic craft lacing

Embroidery thread
Photo Credits
Puppies of the spitz-dog and cat in studio image by Ulf from Fotolia.com