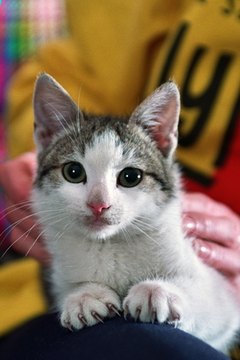 A cat scratching post is a must for cats that still have front claws. Scratching is a natural and necessary part of a cat's everyday life. Unfortunately, sometimes scratching posts wear out. Instead of buying a new post, try recovering the old one.
Sisal Posts
Clean off the old sisal rope by cutting it away with a box cutter.
Open the new rope's packaging so that the sisal will come freely off the spool and heat up the hot glue gun.
Squeeze a thick line of hot glue across the bottom of the post and press the sisal rope firmly to the glue until it cools.
Wrap the sisal rope tightly around the post, gluing it in place every third side for a square post or every six inches for a round post.
Carpet Covered Posts
Cut away the old carpet with a box cutter. Use pliers to remove any staples left behind.
Cut the new carpet to the size and shape of the area to be covered. Heat up the glue gun.
Apply an ample amount of hot glue to the top of the bare post and press the new piece of carpet firmly onto the post until the glue is cool.
Continue to glue the carpet in small sections until the post is recovered.
Items you will need
Box cutter

Pliers

1/2 inch thick sisal rope or remnant carpet

Hot glue

Hot glue gun
Tip
In a pinch, cover a post with thick cardboard.
Warning
Before giving the scratching post back to your cat, test the post for sharp edges or staples by rubbing your hands over it.