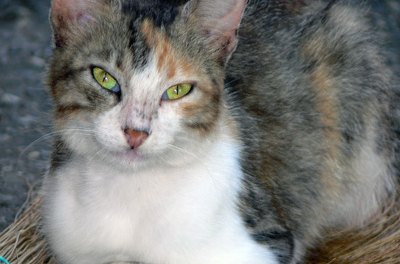 Fresh-baked cookies are a welcome treat -- why not make some for your cat? Maybe not white chocolate macadamia, but homemade treats that incorporate his favorite flavors into crunchy morsels that are healthier for him than store-bought. Be careful where you store them; your cat might start raiding the cookie jar.
Heat oven to 350 degrees Fahrenheit.
Spray a cookie sheet with cooking spray.
Place the tuna in a bowl and flake the chunks apart before mashing them well with a fork.
Add the flour to the tuna and continue to mash and mix with the fork.
Pour the milk over the flour-tuna mixture, then add in the oil and the egg. Stir together with the fork until the ingredients are thoroughly mixed together.
Scoop out a portion of dough with a teaspoon and then divide each portion in two before rolling them into balls.
Place tuna dough balls onto the prepared cookie sheet.
Put the cookie sheet into the preheated oven. Bake for 10 minutes before removing from the oven.
Items you will need
1/2 cup whole-wheat flour

1/4 cup skim milk

1/2 can (6 ounce) tuna fish, oil packed

1 tbsp. vegetable oil

1 egg

mixing bowl

fork

baking spray

cookie sheet
Tips
Always allow cat treats to cool entirely before feeding them to your cat.

3 ounces of canned salmon or 2 1/2 to 3 ounces of strained-meat baby food, like ham, beef or chicken, can be substituted for the tuna.

Add 1/4 cup of shredded cheddar cheese to the dough for an extra special treat.