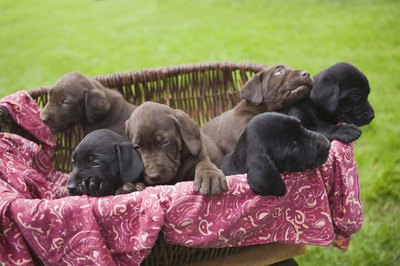 Puppy breath is so hard to resist that it's hard to imagine how anybody can abandon a helpless puppy. Unfortunately, people abandon puppies all the time, and it's up to good Samaritans to help those puppies find quality homes where they will be properly loved and nurtured.
Search for the Right Home
Have the puppy scanned for a microchip. Local animal shelters and veterinary offices have scanners that will tell you whether the puppy has a microchip that is registered to an owner who might be looking for him. If you find the puppy's owner, you can just give him back to his family.
Make fliers to advertise the puppy. The fliers should include a picture of the puppy, a description of him, any relevant information about his personality and temperament (is he good with other dogs or cats, for example, or kids), and a phone number where people can contact you. Post the fliers in local animal shelters, veterinary offices, pet stores, shopping centers, and other places around your neighborhood or where dog lovers might congregate. Send fliers to local animal rescue groups to see whether they can take the puppy or help you find a good home for him.
Advertise the puppy online. Send an email blast out to everyone in your contact list and ask your contacts to share him with people they know. Place a free ad in the pet section of websites such as Craigslist. Share pictures and information about the puppy with all your social networks. Post the puppy's information on adoption websites such as Petfinder.com, Rescueme.org, or Adoptapet.com.
Spread the word. Tell all your friends, family members, colleagues and acquaintances about the puppy that needs a home. Put a brightly colored bandana that says "adopt me" on the puppy and take him with you to dog parks, pet stores, and as many other places as you can so that people can see and play with him.
Screen Potential Adopters
Learn as much as you can about the potential adopter. Contact a local rescue group for advice on what kind of questions you should ask to make sure that the puppy will be going to a good home.
Verify information obtained about the potential adopter. Ask for a vet reference and two other personal references you can contact to confirm that the potential adopter would take good care of the puppy. If possible, personally visit the home of the potential adopter to see where the puppy will be living.
Require a small adoption fee. Adopters with bad intentions are not usually willing to pay for an animal. Protect the puppy by asking for a reasonable adoption fee. Reasonable adoption fees can range from $50 to about $200 depending on the age and breed of the puppy.
Finalize the Adoption
Collect the adoption fee. Do not hand over the puppy to his new family until you have collected the money.
Ask to see personal identification such as a driver's license or state ID card to ensure that the adopter is who she says she is. Keep a record of the adopter's name, address, phone number and identification details.
Sign and date an adoption agreement. Adoption agreements are written contracts designed to protect the animal being placed for adoption. These agreements typically outline the adopter's responsibilities in caring for her new puppy and some include clauses about what the adopter should do with the puppy if she finds herself unable to care for him in the future. If you are not sure what to include in your adoption agreement, look online for sample agreements or ask a local rescue group for help.
Give the puppy to his new owner. Once the money has been collected, information has been recorded, and the adoption agreement has been signed, say goodbye to the puppy and send him on his way with his new owner. It is a good idea to send some of the same food the puppy has been eating and his leash, favorite toy, or any other special items he may have.
Items you will need
Fliers

Internet connection

Email address
Photo Credits
Jupiterimages/Comstock/Getty Images