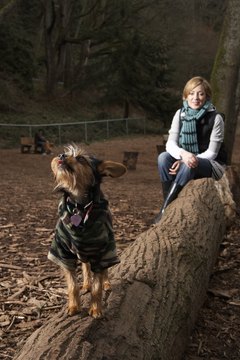 Get some extra life out of one of your old coats by converting it into a dog jacket. Reusing the old fabric keeps the old coat out of the landfill. It also gives you an inexpensive way to keep your dog warm while you get bragging rights for your creation.
Transform an Old Coat
Spread the coat out flat, pin all the pattern pieces to the coat, and cut out each piece.
Remove the pins but keep the pattern pieces with the cut out pieces of coat, just in case you need to refer back to directions printed on the pattern.
Set the sewing machine to make a zigzag stitch and sew all the way around the outer edge of each piece of coat fabric. This reduces the chance the jacket will fray and fall apart later.
Sew the inner seams of the leg pieces to form a tube, stitch the leg pieces into the leg holes in the jacket's body panel, top-stitch the hook and loop tape in place along the body panel's long, straight opening and finish the zigzagged edges with a top-stitched hem.
Items you will need
Dog jacket pattern

Coat

Straight pins

Scissors

Zigzag sewing machine

1 foot hook and loop tape (estimated)
Tips
This works best with a full length coat. A waist length jacket will not work unless you are making a jacket for a toy sized dog.

Confirm the sewing order by reading the pattern directions, as each pattern can offer tips on the easiest way to stitch up the jacket.

The seam finish is normally added after the pieces are stitched together, but with heavy coat fabric, it is easier to finish the fabric's raw edges before joining the seams.

Check the notions section of the pattern envelope to learn about other sewing notions the dog jacket might need, as well as the exact length of hook and loop tape needed.

Consider adding reflective tape as a safety measure if your dog will wear the jacket during nighttime hours.

If you have an older or arthritic dog, look for a jacket pattern that closes up the back instead of across your dog's stomach. The back closure will make it easier to put the jacket on your dog.
Resources
Photo Credits
Thomas Northcut/Photodisc/Getty Images