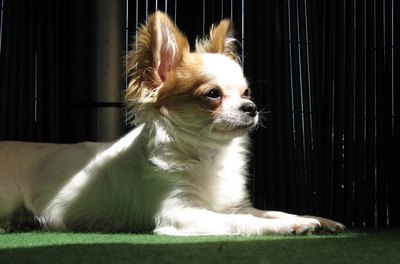 Between 20 percent and 25 percent of small dog breeds like Chihuahuas experience problems with tear staining at the corners of the eyes. Tear stains typically manifest in the form of dark yellow or brown stains. Such stains are typically the result of some kind of eye irritation, which may be caused by long hair, ingrown eyelids or blocked tear drainage holes. If your Chihuahua shows signs of tear stains, try a home remedy to clean them. Once you have cleaned your dog's eyes, you can take a few simple steps to prevent the stains from coming back.
Check your Chihuahua's eyes to be sure there isn't anything stuck in it, causing irritation and tearing. If your dog's eyes are red and swollen, or if deformities are visible, take him to see your vet immediately.
Wipe the area around your Chihuahua's eyes gently with a damp cloth to remove any buildup of crust around the eyes and to soften the dried stains.
Use a cotton swab dipped in warm water if your dog's eyes are particularly crusted and they need a bit of extra attention to clean. This is not uncommon when you haven't been maintaining the dog's eyes regularly. Avoid making contact with your Chihuahua's eyeball, and do not apply enough pressure with the swab to cause discomfort.
Combine equal parts milk of magnesia and peroxide with enough corn starch to make a paste. Spread a small amount of the paste on the tear stains around your dog's eyes, working it into the fur.
Let the milk of magnesia mixture dry for up to four hours, then wash it out completely and let your Chihuahua's fur dry. Apply a thin layer of opthalmic ointment to the area around your dog's eyes after washing out the milk of magnesia mixture, to prevent irritation.
Repeat the milk of magnesia treatment every other day for one week or until the tear stains have lifted.
Trim the fur around your dog's eyes using a pair of blunt-nose scissors. Fur growing too close to the eye is one of the most common causes of tear stains, so trimming the fur should help prevent irritation and thus future stains from forming.
Consult your veterinarian if excessive tear stains persist.
Items you will need
Damp cloth

Cotton swab

Milk of magnesia

Peroxide

Corn starch

Opthalmic ointment
Tip
Keeping your Chihuahua's eyes clean is important, because tear stains are a good place for infection-causing bacteria to grow.
Warning
When bathing your Chihuahua, avoid getting water in the dog's eyes. Getting the eyes wet can cause irritation, which can lead to tear stains or infection.